The first Italian Penicillin
24th May 1947 saw the establishment of SPA (Società Prodotti Antibiotici) by Pharmacologist Dr. Rodolfo Ferrari and microbiologist Carlo Callerio. Now Italy had its own domestic Penicillin, available in vials and tablets as SUPERCILLIN and PRONTOCILLIN. SPA stands to this day at the same address in Milan, albeit with the renovation and modernization expected in its 75 years. Following this success with Penicillin, Rodolfo Ferrari and Carlo Callerio sought to expand the antibiotic portfolio, beginning with Fleming's earlier discovery, Lysozyme.
Lysozyme's story at SPA begins
Fruitful initial discussions culminated in a visit to SPA in 1950 after Fleming's attendance as the guest of honor at the 2nd National Antibiotic Congress held in Milan. From this point, work began to produce high-purity Lysozyme in industrial quantities and expand the applications for which it could be used. SPA's lysozyme was first marketed as a supplement for enteral feeding and for the humanization of cow's milk. These early findings paved the way for the later development of today's Lysozyme applications. Mr. Pisani, former CEO of SPA, fondly recollects:
___

"Prof. Ferrari had a vision of the market that reconciled research with the commercial spirit of a true entrepreneur … he knew how to respect and motivate. Both inside and outside the company, he was able to create innovative teamwork for the times, with modern and enlightened governance "
…
I was entrusted with Lysozyme.
___
At this time, SPA developed and patented the advanced methods of Lysozyme extraction from eggs on which the foundations of its continued success now stand. Using resin purification, the quality of SPA's Lysozyme stood above the competition to become the "gold standard on the market, opening up world markets." It was with this tremendous momentum in 1983 that Fordras SA was founded in Lugano, Switzerland, where Mr. Pisani began coordinating the production, purification, and marketing of lysozyme as an active pharmaceutical ingredient (API).
Applications for Lysozyme emerge
In 1983, work began on understanding the breadth of applications for which Lysozyme could be valuable. Uses in the production of food came first, with the development of a process that entirely prevented the late blowing of cheese. At the time, a significant portion of hard cheeses could not be sold due to hyper-fermentation caused by contaminating Clostridium tyrobutyricum. State-of-the-art approaches were entirely mechanical, including bactofugation and microfiltration. However, spores could still evade these attempts, remaining in the curd to begin growth in the cheese during maturation. Mr. Pisani recalls the breakthrough application:
___

Lysozyme at low dosages of 5PPM, and therefore at a meager cost, gave exceptional results on 100% of cheeses
___
Today, Lysozyme is trusted to prevent late-blowing defects by 99% of Grana Padano producers in Italy, and over 85% of French hard cheese producers do the same. Its hen egg-white source makes it the perfect natural weapon to protect foods from gram-positive bacterial contaminants, reducing food waste and ensuring optimal quality. The US market took to these results favorably too, granting it GRAS (generally recognized as safe) status in 1998. Mr. Pisani put it such:
___

" On the US market, the presentation of these results, combined with the total harmlessness of this natural product, gave Lysozyme GRAS status, opening up a potential future market for food preservation. These fortunate results contributed to my being offered the position of CEO, which I held until 1994, making me experience SPA and the Ferrari family as my second"
___
Fleming believed in Lysozyme
Regardless of Penicillin's power to combat pathogens harmful to humans, the fame, household name status, and scientific accolades with which Fleming was rewarded, Lysozyme's discovery remained his proudest achievement. Whether it was the magic of being his first major discovery or for other reasons, we can't be sure today. However, we have accounts from both VD Allison and his wife, Lady Amalia Fleming, attesting to Fleming's pride in his discovery of Lysozyme. Indeed, we are not the first to celebrate the anniversary of Lysozyme's discovery. A conference was held 50 years ago, and it is from the proceedings of this with which we close this installment in our journey through Lysozyme's 100-year history. Lady Amalia Fleming recalled:
___

__ "At the time of his Lysozyme studies, Fleming himself, the introvert, could not hide his excitement. His rich imagination and the dreams which he kept so cautiously to himself overpowered him, and he expounded a stream of wonderful hypotheses. The six papers he wrote about lysozyme show, perhaps more than any of his other works, the brilliance of his mind. … Fleming had high respect for natural defense mechanisms, and he kept this respect to the end despite the miraculous achievements of his penicillin and all the other antibiotics. … Fleming believed in Lysozyme. He believed that it was bound to have a great future he had discovered it and had done marvelous work on it. Other scientists would follow the path he had opened. Others would purify it, advance it. With absolute confidence, he used to say, "We shall hear more about lysozyme. Your work has made Fleming's prophecy come true"
__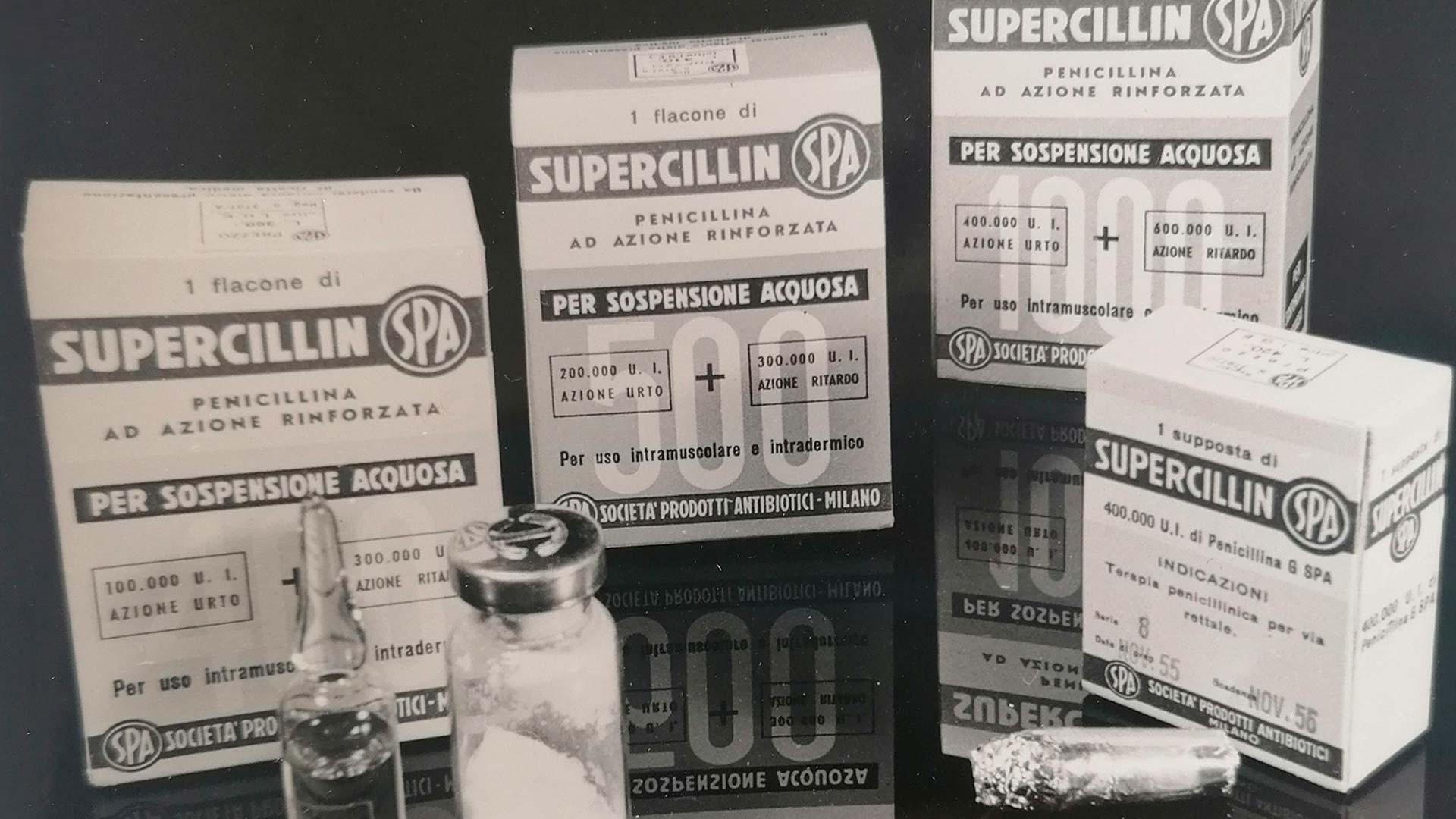 Early examples of SPA's Supercillin vials. Photo Credit: Wikimedia commons.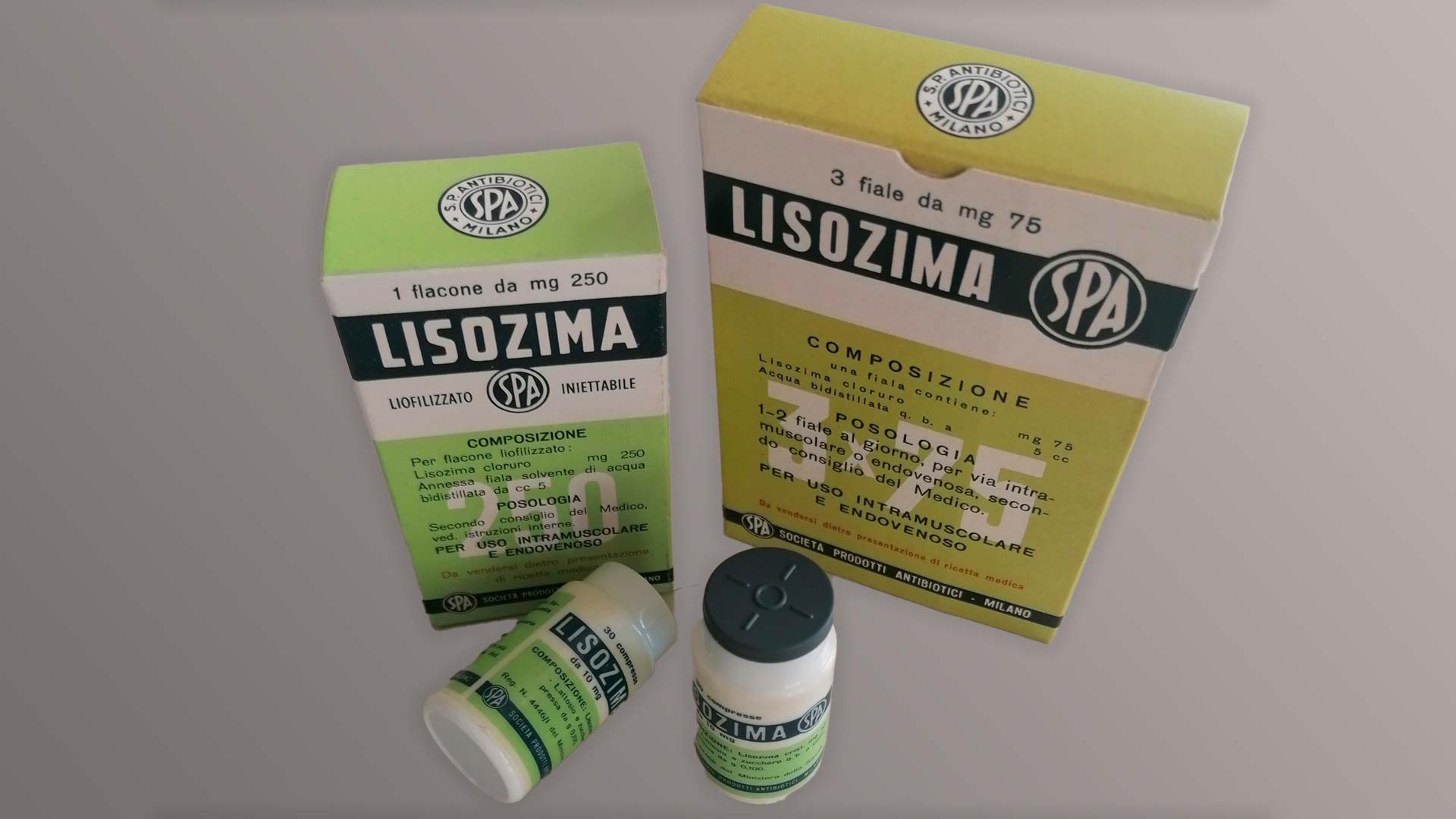 SPA's lysozyme, LISOZIMA, in 250mg and 75mg variants.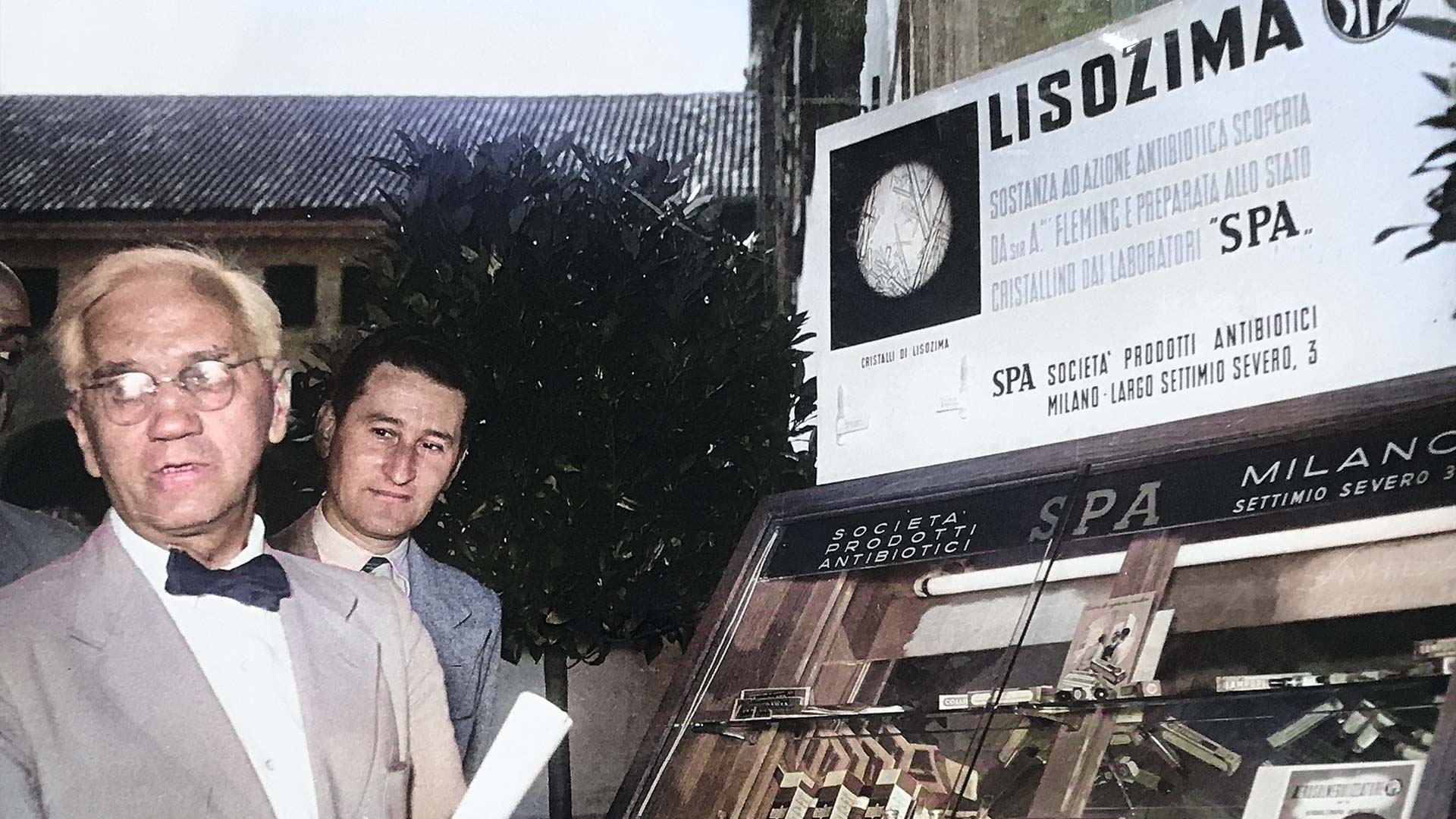 Alexander Fleming examines SPA's Lysozyme display at the 2nd National Antibiotic Congress held in Milan, 1950. Credit: Public Domain, Wikimedia commons
---
100 years of Lysozyme
2022 marks 100 years since news of Lysozyme's discovery reached the Royal Society. Let us take you on the journey of this 100-year story: