We are a leading ingredients company whose natural proteins and enzymes are the first choice across food, pharma, and feed industries. With a tradition of innovation spanning nearly 75 years, we aim to become the global market leader in catalysing the responsible development of proteins with our proprietary solvent-free processes. We are committed to R&D, knowing that scientific developments have led to our innovative portfolio of products, patents, and proprietary technologies.
At Bioseutica® we focus on the global supply of ultrapure bioactive proteins, extracting nature's best from eggs and pancreas. Our egg-derived proteins are highly valued across broad industries that take inspiration from their roles in nature. Lysozyme, Avidin, and Ovotransferrin possess potent natural antimicrobial properties, utilised extensively across food processing, animal health, nutrition, hygiene, and pharmaceutical industries. Leveraging our expertise as global leaders in Lysozyme production, we have developed speciality formulations including the natural nootropic NA2R®, LYSOVIN for winemaking, LYSOLAC® for dairy, and the livestock immunity-boosting Entegard® range. Beyond the egg, we also extract digestive pancreatic enzymes including Trypsin, chymotrypsin, and Phospholipase A2. These have extensive applications in food processing, pharmaceutical, and medical research in applications requiring the faithful mimicking of natural digestive processes.
Our manufacturing processes are built on these high-end, cutting-edge proprietary technologies, allowing us to produce ingredients of the highest quality in our facilities across Canada and Europe. Our international reputation is built on the reliability of our quality and service.
Media
About Bioseutica®
Discover Bioseutica® the world-leading ingredients company from The Netherlands, who we are, our process, our commitment, and our production methodologies[...]
Bioseutica® Food Ingredients
An overview of our natural food ingredients for clean label products. Bioseutica's enzymes and proteins are solvent and GMO-free to ensure the highest quality standard in food production[...]
Bioseutica® NA2R®
NA2R® is a clinically proven natural ingredient for the novel food/nootropics industry. Its daily consumption leads to increased brain serotonin levels, exerting physiologically beneficial effects on the brain[...]
Bioseutica®'s diversified range of products is sold to companies worldwide. In addition to this, Bioseutica® focuses on licensing-related intellectual property. Our organization enables us to efficiently deliver quality products, custom-designed solutions, and timely customer service to clients globally. Today, Bioseutica is the global leader in lysozyme1.
Our international management team strives to be on top of current consumer demands and industrial market trends worldwide.
Bioseutica®'s group of scientists and researchers are continuously developing innovative products for our food, feed, and pharmaceutical customers around the world, with a special focus on delivering the highest quality naturally sourced products. We apply our know-how and proprietary technology to transform natural commodities into highly concentrated active ingredients for industrial use. Our extensive manufacturing expertise allows us to produce high-purity ingredients targeted to the high-quality segments of their respective markets.
Main business divisions:
Health
Nutrition
Research
Product lines:
Lysozyme (Muramidase)
Feed Additives
Egg Proteins
Proteases
Hydrolases
Specialties
Global Footprint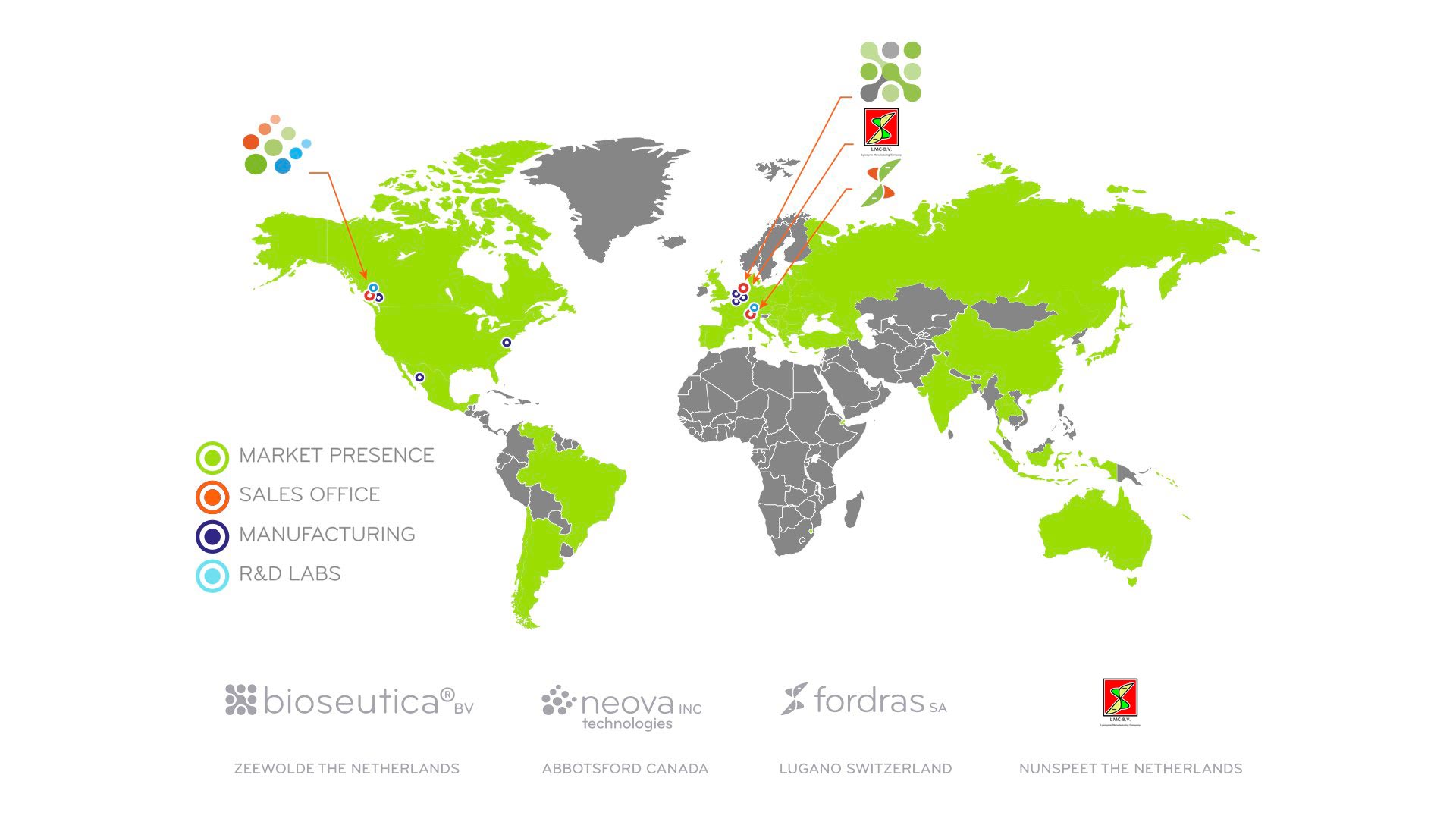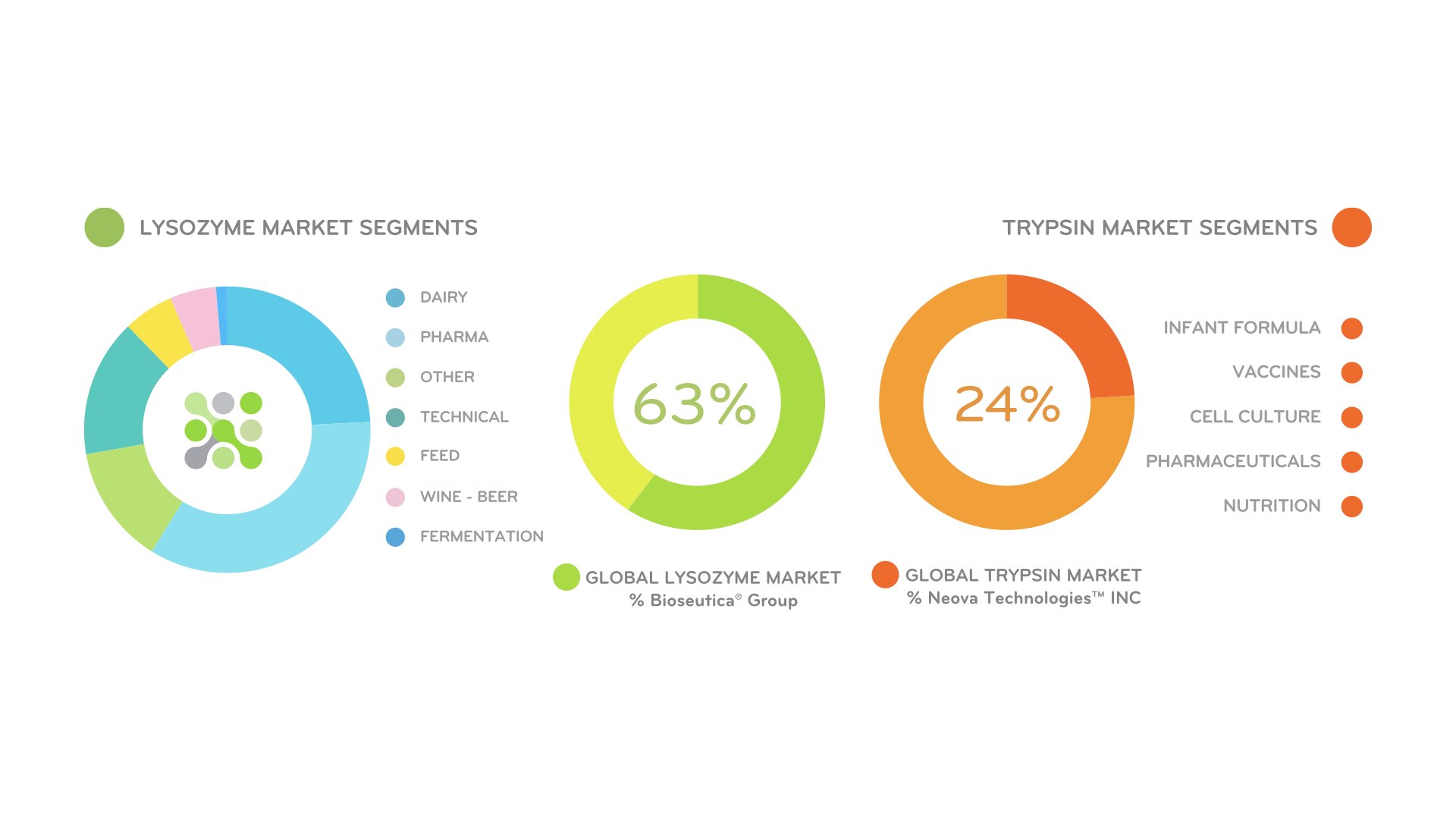 Note:
1. The origins of Bioseutica extend back to 1947 with the birth of PROSPA Pharmaceutical Companies, Solar Group, and SPA, (Società Prodotti Antibiotici), which formed the foundation of what is today Bioseutica. In 2007 the shareholders of Bioseutica acquired Neova Technologies Inc. and its plants in Europe and Canada, a company specializing in the development and production of natural proteins and pancreatic enzymes.