Based on its expertise as a pioneer and global leader in lysozyme, Bioseutica has developed Entegard®, an innovative range of products, designed to overcome the challenges of livestock RWA (Raised Without Antibiotics). Administered via feed or drinking water Entegard® helps to maintain healthy gut flora and gut barrier function by sustaining the structural integrity of the intestinal wall. This leads to optimum nutrient absorption, improving the health and animal development of livestock.
The Entegard® formulations are designed to provide protection and restore microbiological balance. Lysozyme is its active component. Entegard® is the perfect solution for the antibiotics withdrawal period for layers and broilers and helps producers to overcome the challenges associated with (ABF) antibiotic-free production.
Why Entegard®?
Entegard® is ideally suited for antibiotic-free (ABF) poultry operations
Entegard® sustains the health of poultry
Entegard® helps to maintain healthy gut flora and gut barrier function
Entegard® leads to optimum nutrient absorption
Entegard® supports the animal defenses against gram-positive and negative bacterial challenges
Entegard® promotes clearance of microbial debris and boosts the immune system in poultry
Applications
BROILERS
Reach target weight to market faster
Reduce mortality
Alleviate NE1 outbreaks
Avoid bacterial contaminations
Enhance Immunity
LAYERS
Increases output
Reduces mortality
Enhances yolk coloration
Reduces egg breaks losses
Prevents Salmonella contamination
1. Necrotic Enteritis
Advantages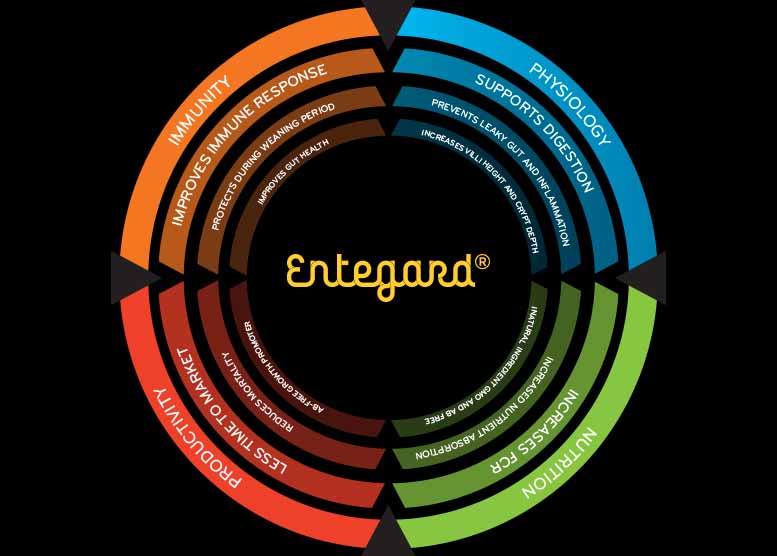 ENHANCES FEED EFFICIENCY
IMPROVES GUT HEALTH
SUPPORTS DIGESTION
PROVIDES SUPERIOR BACTERIAL CONTROL
REDUCES MORTALITY
IMPROVES SHELL AND YOLK PARAMETERS
Gut Benefits
Improved Gut Villi Height
Improved Gut Crypt Depth
Improved Gut Barrier Function
Improved Nutrient Absorption
Increased surface area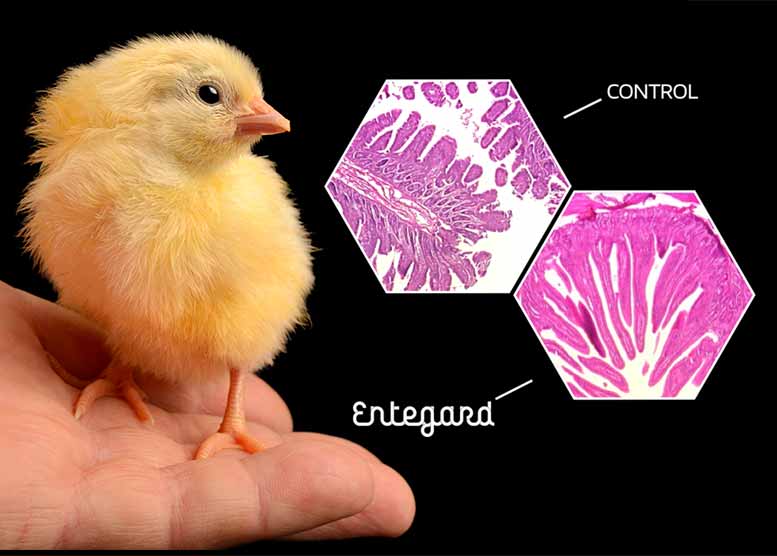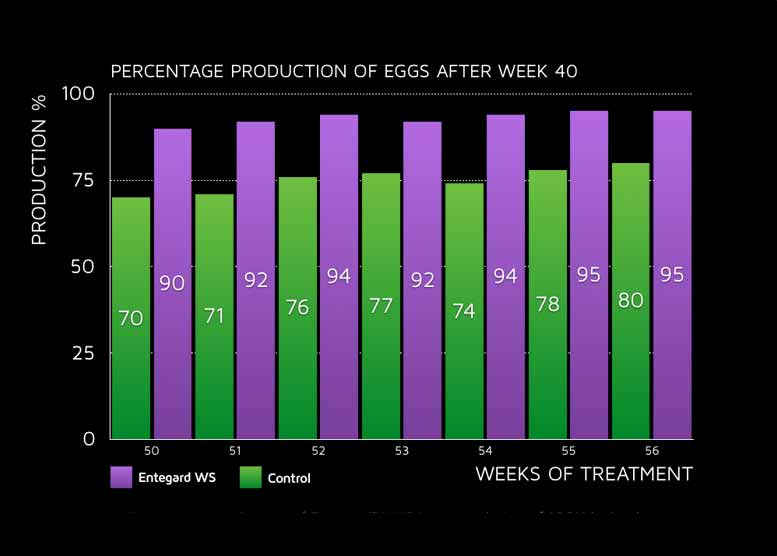 Productivity
The percentage of production from week 50 through week 56 is similar to that obtained at week 40, indicating production continuity due to the application/use of Entegard®.
Study Data: Field results on the use of Entegard® WS in a population of 100K laying hens, Venezuela.
Mortality
Entegard® improves gross margin of ABF poultry production by up to 8.5pp due to lower mortality resulting in more live meat by end of the cycle.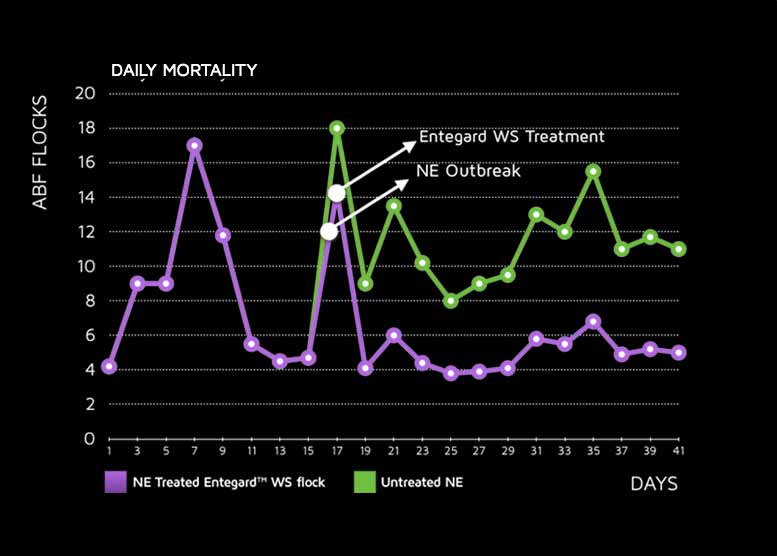 Study Data: Field results on the use of Entegard® WS in a population of 100K laying hens, Venezuela.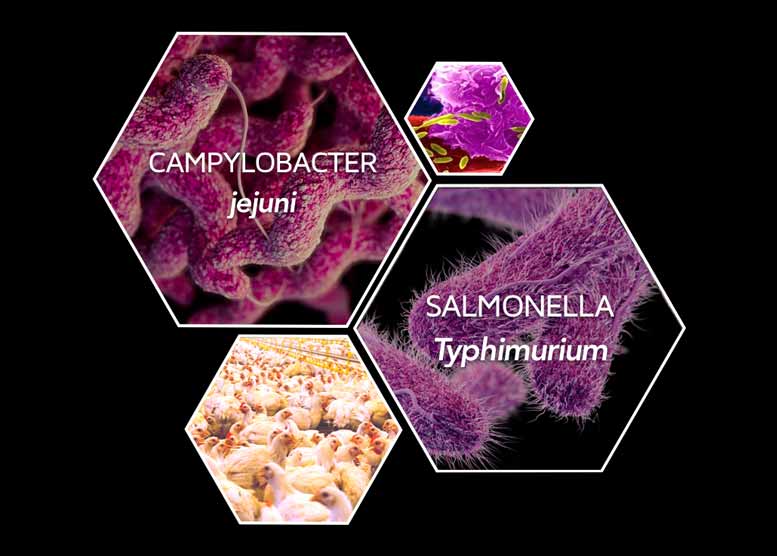 BACTERIA
Entegard® destabilizes & breaks down the cell wall of bacteria by interfering with bacterial attachment and is proven to eliminate bacterial contamination from:
Campylobacter jejuni
Salmonella Typhimurium
Clostridium perfringens type A
Clostridium perfringens type C
Clostridium septicum
Escherichia coli
Entegard® is easy to use!
Available in the water-soluble and encapsulated formulation, Entegard® offers the choice of application via drinking water, or as feed
For scientific articles and publications about the advantages of using Entegard® in poultry please refer to the literature section of this website
Relevant EU regulation for ENTEGARD®:
Regulations may vary according to the country. Always check the local legislation regarding the claims and usage of this product.
ENTEGARD® falls under producer identifying number: NL210707 (according to article 9 of EU Regulation 183/2005).
Download
Entegard® Line | Related products