LYSOLAC®: trusted to naturally protect cheese for 30 years
Cheese is susceptible to spoilage by micro-organisms, which can cause defects that dramatically reduce its quality, imparting negative odours and taste defects. LYSOLAC® has been trusted by cheesemakers for over 30 years to naturally protect the quality of cheese, maintaining its flavour and texture whilst increasing shelf-life.
LYSOLAC® is safe, easy-to-use, and cost-effective, taking full advantage of the natural antimicrobial properties of lysozyme. This protective enzyme is found in mothers' milk, tears, and in hens' eggs, where it powerfully disrupts the membrane of gram-positive bacteria, killing them.
When added directly to the milk, LYSOLAC® protects the cheese throughout the entire process. Its positive charge binds it to the negatively charged casein in milk, keeping LYSOLAC® active in the curd, and beyond into the ripening stages. This is critical for preventing late-blowing, cracking, and splitting defects, which are caused by the spores of Clostridium tyrobutyricum. These spores are notoriously resistant to pasteurisation, bactofugation, and micro-filtration approaches. They endure these unharmed, poised to begin growing weeks later during ripening when conditions are favourable. Cheese protected with LYSOLAC® rapidly destroys Clostridium tyrobutyricum spores that begin to grow during ripening, entirely preventing late-blowing spoilage of cheese.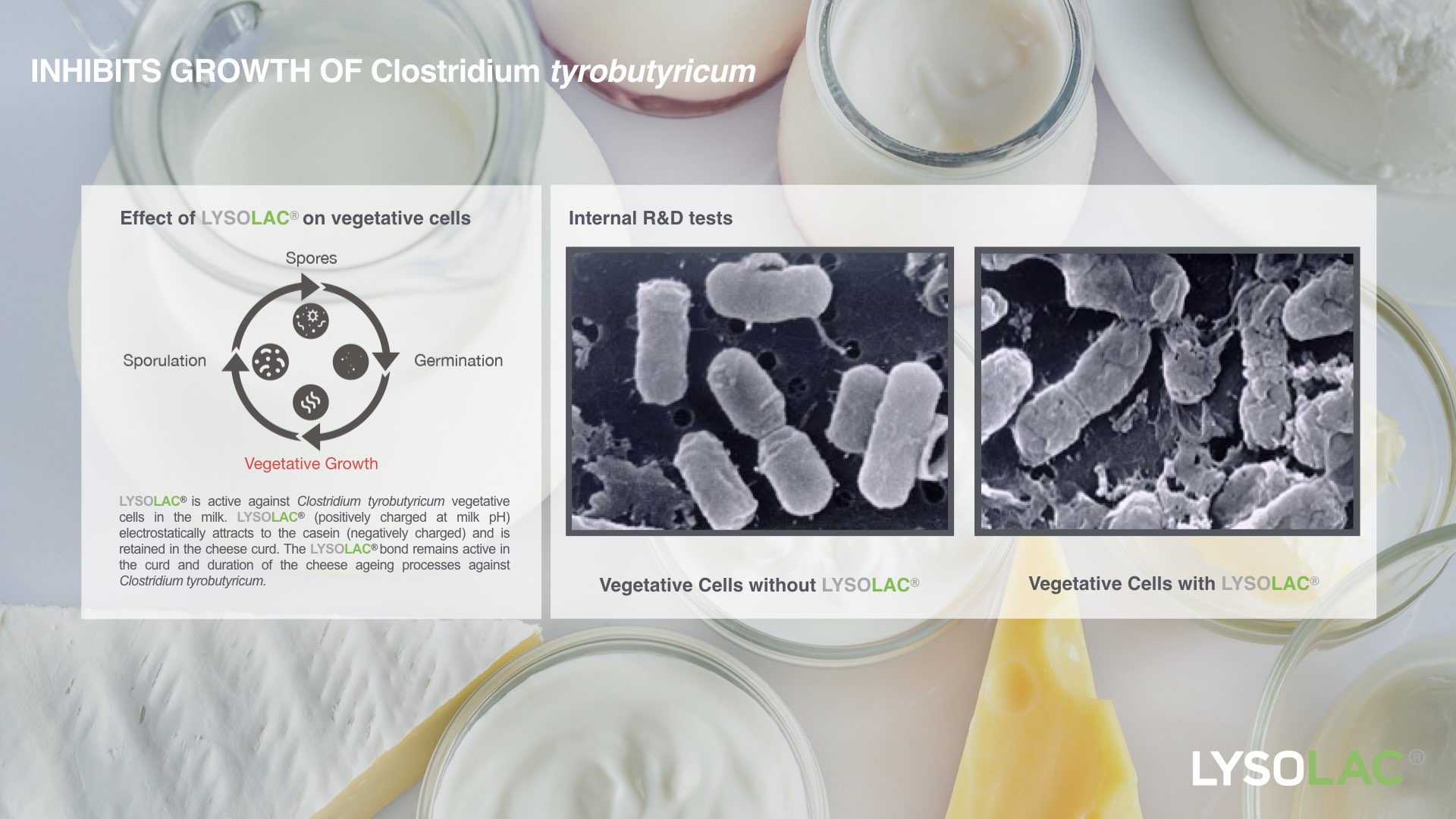 LYSOLAC® Inhibits growth of Clostridium tyrobutyricum
LYSOLAC® is active against Clostridium tyrobutyricum vegetative cells in the milk. LYSOLAC® (positively charged at milk pH) electrostatically attracts to the casein (negatively charged) and is retained in the cheese curd. The LYSOLAC® bond remains active in the curd and duration of the cheese ageing processes against Clostridium tyrobutyricum.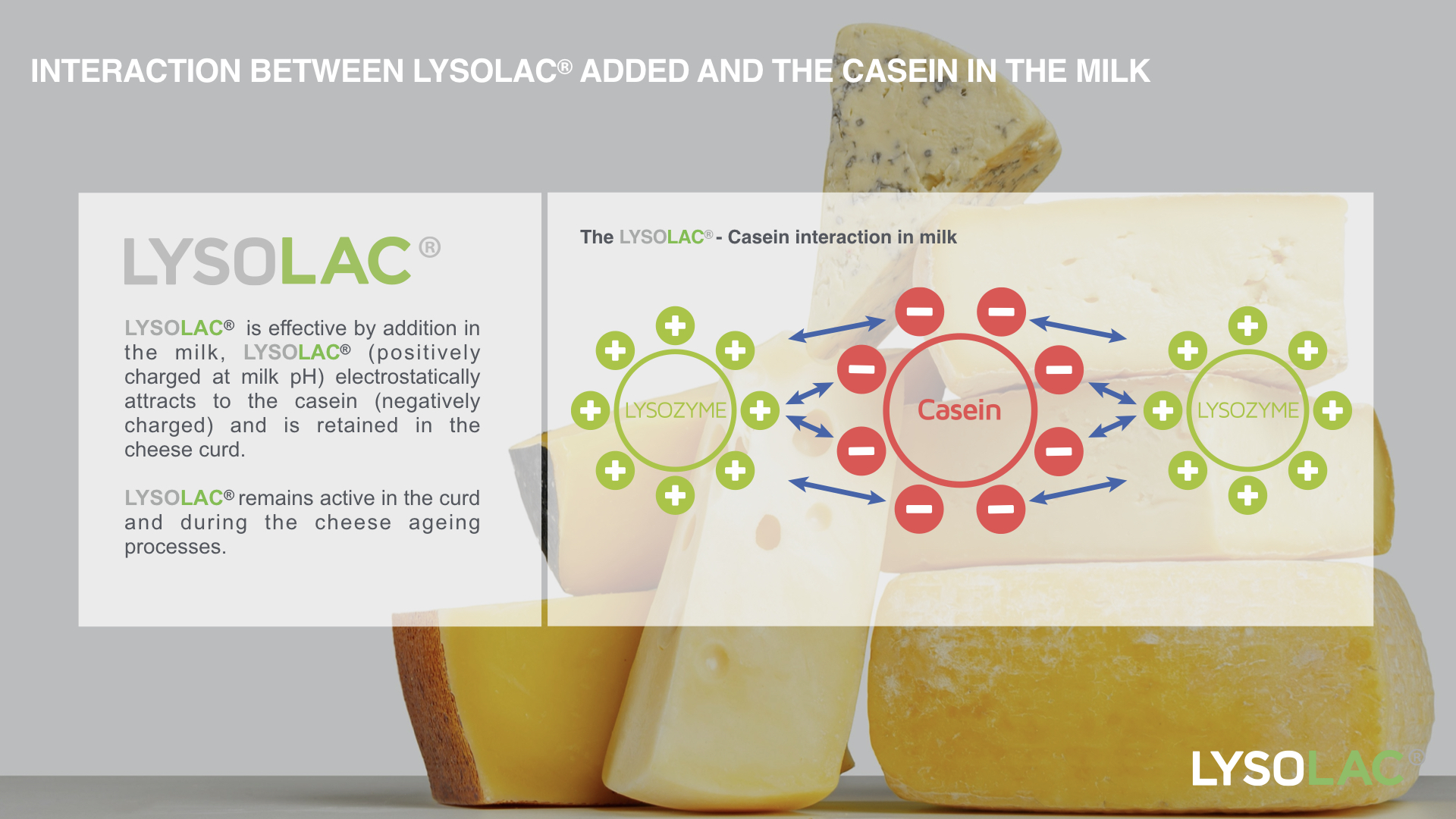 Interaction between LYSOLAC® added and the casein in the milk
LYSOLAC® is effective by addition in the milk, LYSOLAC® (positively charged at milk pH) electrostatically attracts to the casein (negatively charged) and is retained in the cheese curd. LYSOLAC® remains active in the curd and during the cheese ageing processes.
LYSOLAC® successful track record of over 30 years
LYSOLAC® is trusted worldwide to protect hard, semi-hard, and soft cheeses including Grano Padano DOP, Edam, Gouda, Manchego, Cheddar, Brie, Camembert, Emmentaler, Conte, Montasio, Mimolette, Provolone and Romano among others. In fact, 99% of Grano Padano DOP produced today makes use of the protective properties of lysozyme, with over 85% of the French hard cheese industry doing the same.
LYSOLAC® is invaluable insurance for cheesemakers, costing only 0.04€ per kilo of the finished cheese. 500 g of LYSOLAC® is enough to treat 1.65 Kilolitres of milk, providing cheesemakers with real tangible value. Available in either granulated or liquid forms, LYSOLAC® is stable for up to 3 years when kept dry at ambient temperatures.
Protect your precious cheese naturally with LYSOLAC®:
Advantages
Cost-effective insurance against late blowing defects
Easy to implement, requiring no specialist equipment
Doesn't affect starter cultures
No impact upon the flavour, texture, or aroma of the finished cheese
Use Cases
Improvement of yield in cheese production
Prevention of late-blowing, cracking and slit formation
Enhancement of cheese safety, and consistency of quality
Formulation
LYSOLAC® is available as a granular or pre-mixed solution, in a variety of quantities. 50 g is enough to treat 4000 lbs of milk (equal to 450 gallons or 1700 litres). Use the calculator to the right or download a dosage chart. LYSOLAC® Granular is available online in 50 g and 100 g re-sealable pouches and in 500 g screw-top canisters. LYSOLAC® is available in special orders containers of 10 kg, 20 kg and on up; it has a shelf life of 2 years when kept free from sunlight and heat. LYSOLAC® can be also ordered as a solution in containers of 20 L and on up to 1000 L, with a shelf life of 9 months when kept free from humidity and heat. LYSOLAC® is stable and safe: Granular remains stable when maintained free from humidity at ambient temperature (15-25°C) with a shelf life of 3 years: premixed solution remains stable with a shelf life of 1 year.
Dosage
A dosage of 25-35 mg of LYSOLAC® per litre of milk is generally sufficient to avoid late-blowing. 500g of LYSOLAC® can treat 16.500 litres of milk (88.000 lbs).
Regulatory Status
JECFA classification as food
GRAS certified in 1998: US FDA
Approved in Canada in 2000: Food and Drugs Act (1122)
EU registered food ingredient: E1105, 1129/2011
FSSC 22000 Food Safety Systems Certification
Available certified-Halal and Kosher upon request
References
Khorshidian N.,Khanniri E., Koushki M.R.,Sohrabvandi S., Yousefi M. An Overview of Antimicrobial Activity of Lysozyme and Its Functionality in Cheese | Publisher Site